Continuing our journey back to the frozen north, we got an early start in order to try to make an early arrival in St. George, Utah.  A former Sherwood Park neighbour had recently bought a condo there, and we had been hearing from a number of people on our journey, how interesting St. George is.
St. George is essentially a gateway to the incredible Utah parks such as Zion.  It is also fast becoming a retirement and winter getaway haven being the furthest north latitude where palm trees grow and having lots of space to build homes.  The surrounding land is characterized with red clay buttes and spectacular views.  No high rises and lots of green landscape and golf courses.  I don't think it is possible to buy property in St. George that doesn't have a view.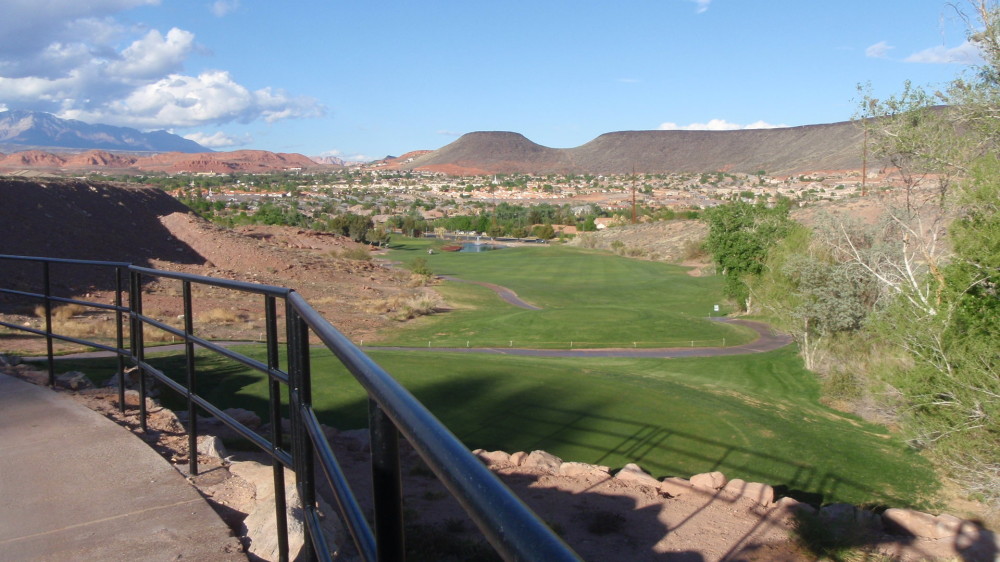 Snowbirds and sojourning part time residents either drive (22 hours from Edmonton) or fly to Vegas from where a two hour shuttle to your door in St. George is under $50.  Discounted flights to Vegas can be found so the whole experience is affordable.
The city is growing fast, not withstanding the real estate collapse of 2008, largely due to seniors moving there and spending their savings.
We stayed in a family owned campground in the heart of the city.  The sites were very small but no matter as we were out and about every day.  As with everywhere we went, we met Canadians snowbirding in the south and shared our experiences and thoughts on weather window to proceed further north.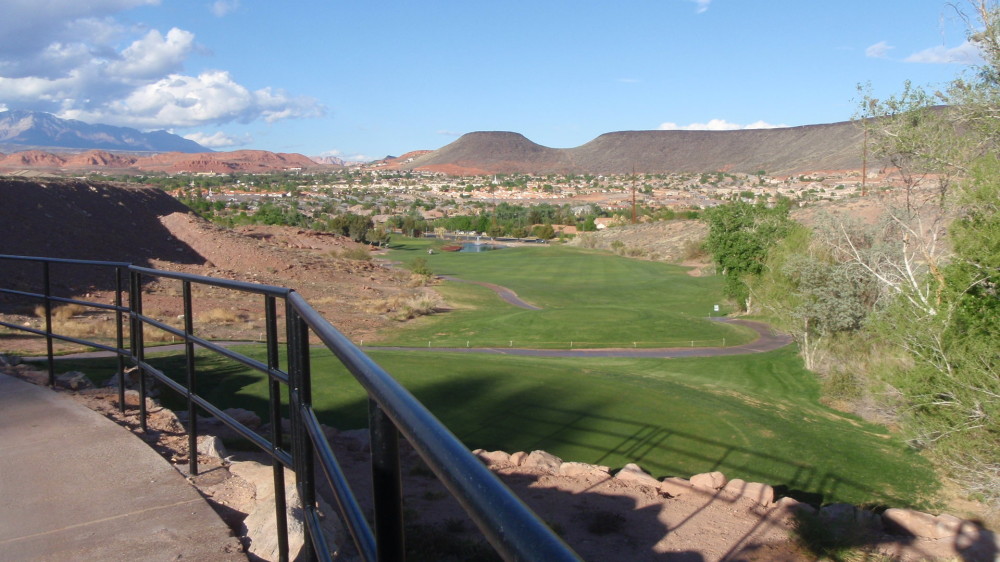 The golf was great in St. George although a little more expensive than Yuma and the other places we stayed.  We took advantage of a multi-manufacturer club demo day and ended up buying a couple of new clubs at heavily discounted demo prices.
Our hosts, Doug and Dianne, had us over for dinner twice in their condo on the golf course. We also enjoyed a round of golf with them, and shared some good laughs (we look forward to visiting Dianne at an Elks Club some day soon :-)
I would put St. George fairly high on my list of US cities to hold a second property in.  Real estate prices are still good but you can see the congregation of seniors starting to drive demand.
St. George was our last stop as snowbirds with no fixed agenda.  With the pressure to return to Canada before tax filing deadlines we were actively monitoring the weather for a window which would at least get us to the border.  When we finally left, we travelled two long days north, stopping at a casino near Blackfoot to boondock (and winterize) on night one and then making a long drive to the border and a stop at a small campground in Milk River where we dry camped and took advantage of hot showers and heated washrooms.
We had hoped to have avoided the snow but we encountered flurries in Montana and snow banks on the ground in Milk River.  Night time temperatures were sub-zero but our heating systems kept up.
We made the trip from Milk River to Edmonton in one day but it was a long one, stopping to check weather ahead frequently and pushing winds in excess of 30 MPH.  We narrowly missed a heavy snow storm south of Calgary and when we finally set up for the night at River Cree Casino in Edmonton, overnight lows were minus 13 degrees Celsius and we woke up to very slippery conditions. Once the ice melted, we headed for storage.
The RV is parked in storage for the month of May but we are planning our summer of fun around Alberta, Saskatchewan and BC. Thankfully it is starting to warm up.