On the recommendation of friends on the RV Forum we decided to spend a few days in Borrego Springs, California as we start our journey home.  We're really glad we decided to stop here – it is a beautiful place with lots to do – including golf!
The area was first discovered by a Spanish expedition leader (Juan Beatista de Anza) in the late 1700s when he led an expedition from Mexico north to Monterey.  Apparently the expedition members (settlers and military escort) nearly froze to death when they passed through the area in December.  Importantly, they found water and, as the story goes, de Anza boosted the spirits of the travelers by distributing alcohol much to the consternation of the accompanying priest – no one remembers his name…..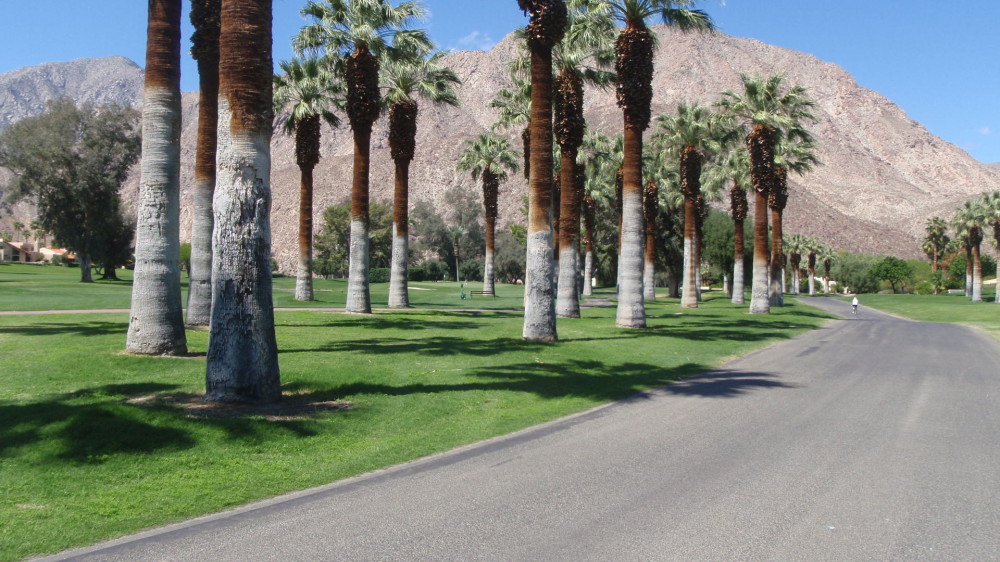 Borrego Springs is east of San Diego and also an easy weekend commute from Los Angeles so it attracts weekenders as well as retirees and boondocking travelers.  Although still in the Sonora Desert, the vegitation here is a little more "lush" (a relative term for deserts) than we encountered in Arizona.  Its a little higher altitude (about 600 feet) but evidently water is available and in some cases the golf courses rival the best I've ever seen – and far better condition than Yuma.
We were at the tail end of the winter snowbird season (Easter weekend) so it was easy to get onto golf courses and restaurants and other shopping is not crowded.  We played lots of golf on less than fully booked courses.
The area (except the town of Borrego Springs) is largely contained within the Anza Borrego State park (the largest desert park in the US) – a well organized and serviced park with lots of natural interpretation at the visitor center and many local trails for hiking.
We took a short hike on a trail called the Slot Wash which is a narrow canyon cut in the soft surface limestone and clay by years of not too frequent rain erosion.  In places you need to squeeze through the narrow opening sideways.  We explored an adjacent canyon and it was clear that there were many other routes leading away from the wash by evident tire tracks from quads and other off road vehicles – a popular pastime here.  But, we had to cut that part of the trip short as mid-day temperatures were soaring and we had limited water with us.
Another day we hiked Palm Canyon located within the state park. A four mile round trip from the visitor center was made a little challenging by having to climb over rocks but in general was an easy hike. At the most distant point lies a stream and grove of palm trees – a welcomed resting spot after trekking through the dusty desert. A quick shower at the state campground on our way out was also very refreshing.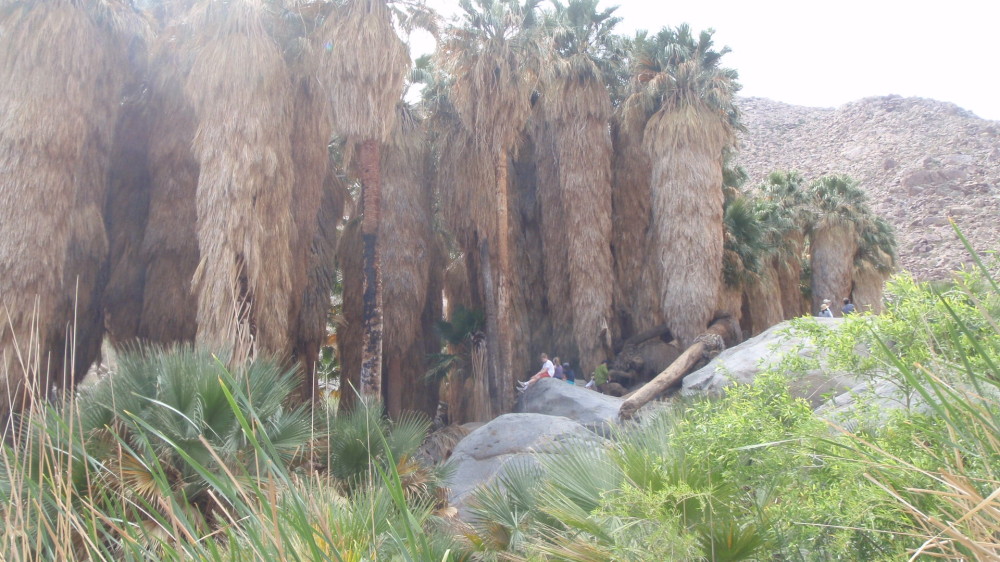 A key attraction here is a series of metal sculptures of regional culture and pre-historic and imaginary creatures scattered through the area immediately surrounding Borrego Springs.  These sculptures were commissioned by the late heir to the Avery label empire and were created by a Mexican artist.  They are intricate and interesting.  We actually boondocked among them and cycled to some nearby – others we drove to as they are on the other side of town.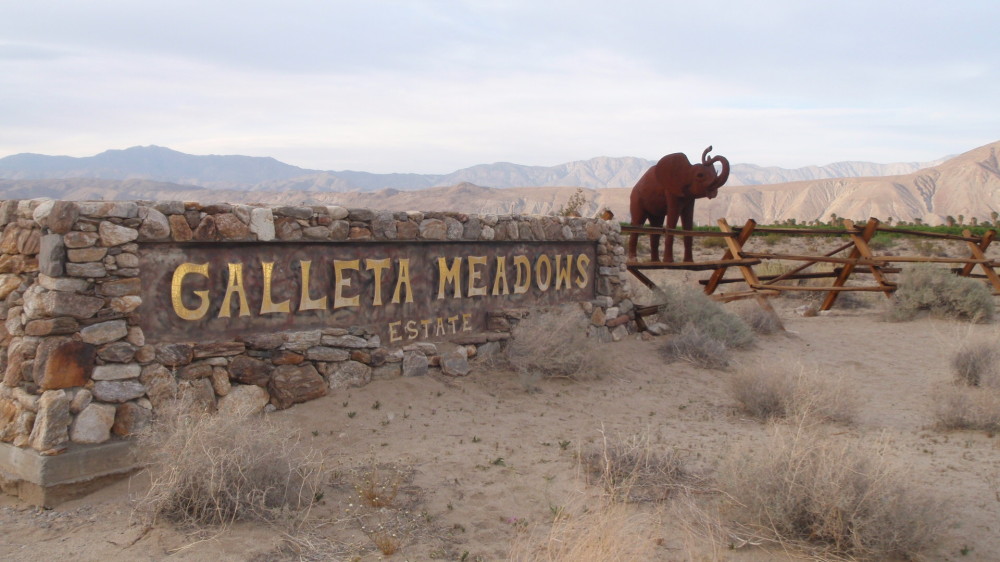 Galetta Acres, where most are placed, allows up to three days of dry camping in the desert.  We have mostly been completely alone in this portion of the desert other than during the day when tourists visit the sites.  Other than a very high wind for a couple of days, it has been dead quiet – a welcome relief from busy highways and military airfields around Yuma.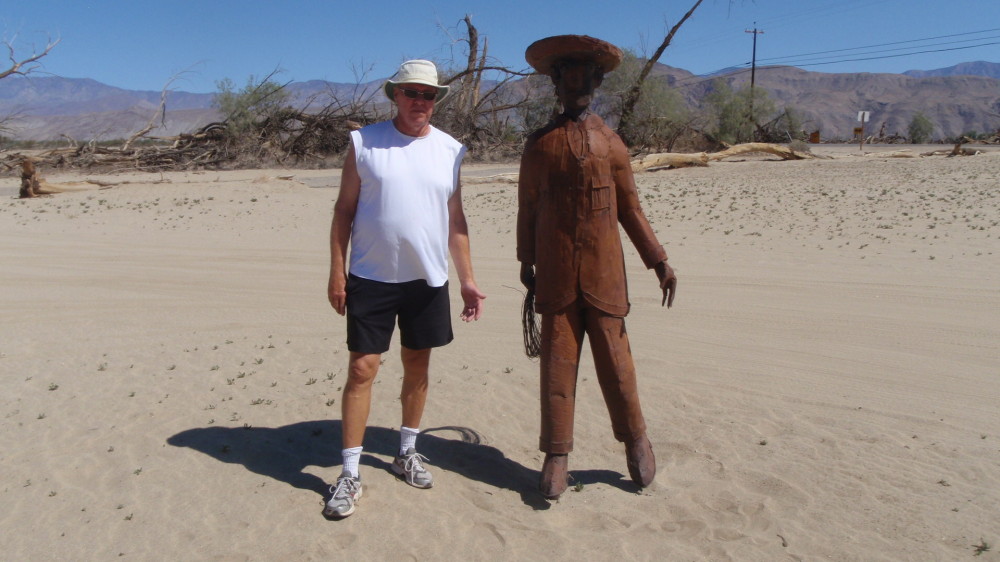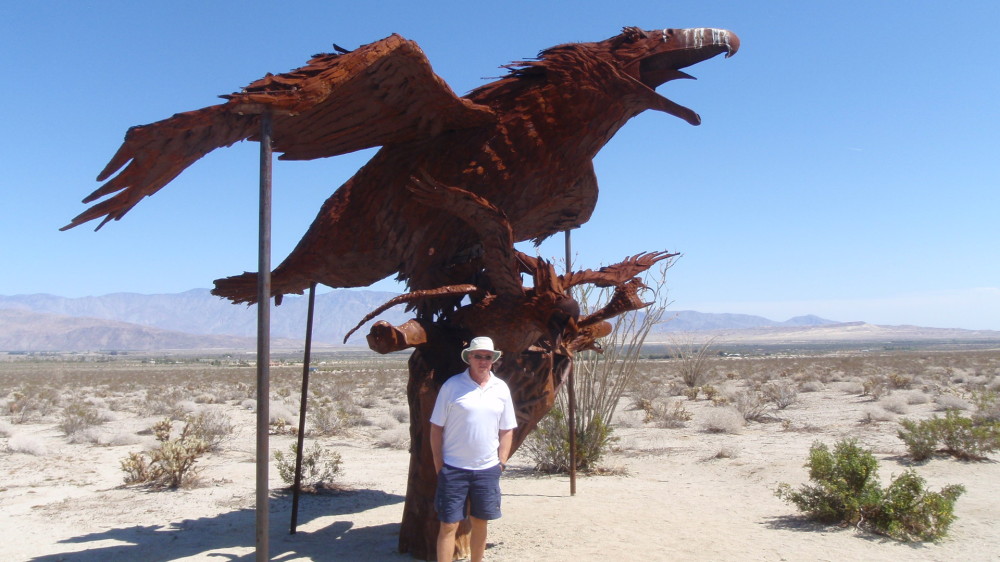 Borrego Springs was California's first "dark night" town where concerted efforts are made to limit ambient light thus aiding star and planet gazing. It is definitely inspiring sitting in the cool dark night quiet next to our unit in the desert – when the wind isn't blowing 30 knots!