Our primary trip objective this winter was to get as far away from the snow as possible and set up where we could relax and enjoy outdoor activities. Yuma, Arizona is one of the premier destinations for snowbird RVers due to its southerly latitude along the Mexico, Arizona border and consequent warm weather.
We had received a lot of tips and advice from fellow RVers at Quartzsite so we had a pretty good idea of what to expect. Sheryl also has a former work colleague/friend that has been coming to Yuma for several years.
Although we were pretty confident we wanted to be in one of the few golf resorts, we initially boondocked in the parking lot of the Paradise Casino from where we could explore the area and assess the various resorts. Paradise is free parking on a gravel lot but we understand that every few weeks the casino kicks everyone out to effectively clean out those not gambling or otherwise spending money at the casino. We took advantage of the breakfast and supper specials in the casino dining room but didn't leave any money in the slot machines.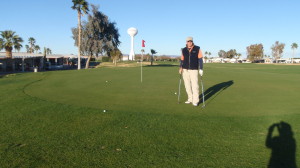 Friends we had met at Quartzsite had suggested the Cocopah RV Resort and Golf Course where they lease a site year round. Cocopah is a native owned property with well developed services and site largely occupied by park model units where most residents stay for four to five months a year. After surveying other Yuma resorts, we committed to one moth at and got a great site on the 11th tee box and a view of the 10th green. The course was in great shape and we also took advantage of Saturday breakfasts, burger night, pizza night, the hot tub, the gym and of course golf, including one afternoon with the couples group.
The Cocopah resort golf course is in great shape presumably because the native community enjoys fewer restrictions on drawing water from the Colorado River which runs right next to the course. Greens and tee boxes were watered daily. Getting tee times was another issue however as the long term residents have formed various clubs (men's 9 hole, men's 18 hole, women's 9 hole, etc.) which block book tee times and make it difficult to pre-book times other than very late in the day. And, on weekends, Cocopah books various tournaments often on a two flight per day shotgun start basis. We did play a few round but not as many as we had hoped.
Occupancy at Cocopah is down for the 2013 season and everyone is speculating about the reason. Boomers caught in the 2008 financial collapse downdraft delaying retirement and not replacing the older residents who can no longer make the trip? Increasing prevalance of boondocking arising from solar and wind energy options and more desire to get out and do it on affordable terms? Whatever the reason, the very friendly locals were anxious to know if we were having a good time and if we were planning to return next year. It is definitely high on our list if we decide to plant ourselves in one place next winter – an open question at this point.
On the question of friendly atmosphere, we met a number of people on the golf course and otherwise at Cocopah who we plan to stay in touch with. On the whole, Yuma has been a very friendly place swarming with retirees who are enjoying the lifestyle and having largely put life's stresses behind them. Any experiences otherwise are exceptions and aberrations.
As an aside, we are finding life in the US very economical but Sheryl has been working on innovative ways to make it even more affordable as noted in the photo below. (editorial comment from Sheryl….good photo for a chuckle…..I was actually retrieving packaging from something Doug purchased, discarded, and then needed back….next time he digs in the bin and I take the photo :-)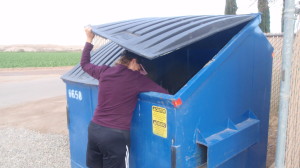 So, what does one do in Yuma other than golf? Read on….
Los Algodones, Mexico – Dental and Pharmaceutical capital of the western world
Los Algodones is right on the Mexico/Arizona border a few miles west of Yuma. Most tourists park on the US side and walk across the border, avoiding the need for Mexican vehicle insurance. The streets are lined with vendors selling all variety of wares from shirts to hats to art to jewellery to leather goods…..you get the picture. Their selling season to snowbirds is short and they are anxious to make sales and will negotiate on pretty much anything.
But the real reason to go to Los Algodones is for cheap dental work. Behind every street vendor is located a dental clinic with services from cleanings to fillings and crowns, to root canals, to implants. Virtually all dentists are US trained and we have heard of no instances of poor work, although we did hear of some people being upsold on services they weren't sure they needed. We had recommendations of clinics with good service records and out first venture was to get cleanings for $40 each – and they did a good job. I had a crown break a few days later (it had been poorly done previously and I was aware that it wasn't going to last) so I had a new one done for $250 – the dentist was very meticulous about preparation and fit and it feels better than ever. Sheryl is now having one of her teeth crowned to replace and old deteriorated filling.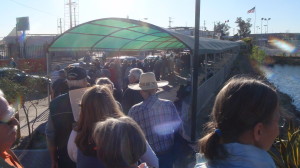 It pays to head back over the border by mid-day as line ups at the border an be over two hours – we found this out on our first trip when we stopped with our friends Pat and Rita from Edmonton to enjoy margueritas at El Paraiso, a great local watering hole with good food and live music.
Flea Markets and Other Shopping
Apart from seasonal RV snowbird presence, Yuma is a pretty small place so shopping is limited to Walmart, Sams Club, Lowes, Home Depot and Fryes grocery store but you can get anything you need for your winter stay. There are also auto and other mechanical service shops for vehicles and RVs and several propane outlets waging a great price war (cheapest was $1.79 a gallon – under $14 for a 30 pound tank).
But flea markets are where everyone congregates from Thursday to Sunday. These places, some indoor and some outdoor under tarps, sell everything from golf equipment to hardware to RV parts to kitchen wares to RC helicopters (like my new gryo copter :)). Its Quartzsite all over again and a good way to put in an afternoon even if you don't really need anything.
Festivals
There were several festivals while we were in Yuma mostly named as some variant of heritage. They block off downtown, bring in a mariachi band and the same vendors sell their unique wares. The museum on the main street is open and the local history highlighted. Yuma was a convenient crossing point on the Colorado River as the west was opened and also became a control point for the military and law enforcement. They also have an annual lettuce festival which unfortunately was held the same day as the air show (see below) and sometimes one has to make choices.
Local Produce
Yuma, during the winter, supplies most of the lettuce consumed in North America. It is grown in large flat fields with specialized equipment and flood type irrigation. Mexican workers are brought in daily to harvest and manage crops and if you approach the workers in the field they will give you an armful of fresh lettuce for free. They also a grow a variety of other crops and agricultural tours can be joined a couple of days a week.
Marine Corps Air Station Air Show
This annual event is held on the local air base where the military pilots fly Harriers, F5s, various helicopters and …….. the new F35 fighter!! They had numerous static and aerial displays and the whole event was well organized by disciplined and very polite military personnel.
On display were a B29 and a few other WWII aircraft as well as current F5s, Harriers, Helicopters and personnel transport aircraft. Some were roped off but you could sit in the cockpit of many and pretend to be chasing the Red Baron around the fantasy skies.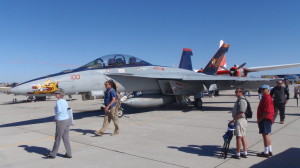 Unfortunately the new F35s were grounded due to engine mount cracking problems but we did get close to one on the ground.
The air show consisted of an incredible civilian stunt pilot flying a seventy year old aircraft, F5s flying in formation, and a mock WWII/Korean War fight involving two P51s, a Corsair, a Harvard, a Bearcat, a Russian Mig and a civilian T33. The old aircraft were incredible to watch but the highlight was a Harrier performance which went on for about 15 minutes with all kinds of very remarkable maneuvers.
RC Air Show
To the northeast of Yuma/Foothills the local remote control guys have a small airfield in the desert with get this …… a paved runway! For a small donation collected as a parking fee, we got a whole day of watching talented RC pilots trying not to crash their prized models. A couple of the young pilots were, in real life, military drone pilots ……. and were they talented!
Hiking
Although we seem to do a lot of walking (shopping, golfing, sightseeing) we haven't been doing much hiking.  There are lots of trails and even some hiking clubs in Yuma.  The desert is an open opportunity for hikers, four wheelers and boondockers as there is little if any private ownership of land.  Trails abound and some are well documented and widely known.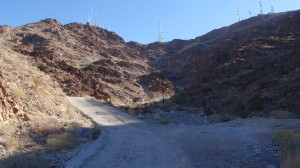 We decided to tackle what was described as a moderate hike up Telegraph Pass which is home to a multitude of microwave and other communications towers, being a high point to the east of Yuma/Foothills separating it from Gila River Valley (home of the great Coyote Wash Golf Course).  The Gila River Valley is one of the most frequented crossing points for illegal aliens from Mexico and drug runners and is difficult for authorities to patrol due to its expanse.
The initial path we took was along a primitive road with rather large rocks.  Our return trip took us along a much easier footpath traversing ridges along small hills.  Because the trail is used as access for communications system maintenance, it is largely paved with concrete making walking at least reasonably sure footed.  On the other hand, the trail is very steep near the top and most hikers make frequent rest stops.  Its considered a good fitness climb for locals and some younger military types were actually running it – those guys are fit!
Great views from the top and in all we felt we had a good  workout with 1.5 hours up and 1.25 hours back down.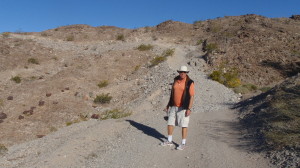 There are many more such hikes of varying degrees of difficulty all around Yuma and many people combine quad/sand rail/4×4 travel with hikes to more remote locations such a abandoned mines or wild donkey grazing "meadows".  You will see coyotes if you are out early or late in the day and may even see distinctive road runners.  The Road Runner cartoons were fairly accurate depictions of life in the desert with "Wiley" coyotes more likely to be seen as road kill along the highways (didn't see any blown up by dynamite or with anvils on their heads though) and road runners rarely sitting still.  After a rain (as rare as that is) the desert briefly comes alive with cactus flowers and green sprouts.  There's quite a contrast between local golf courses and the surrounding desert they are carved out of – the opportunity for commerce is the motivator for a lot of effort and in this vast desert wasteland the two can comfortably and respectfully co-exist.
After departing from Cocopah, thinking we were only going to be around a few more days while my dental work was finished, we stayed for about two weeks on a friends vacant lot in Foothills, adjacent to Yuma. We then moved to another resort which was offering one month with full hookups for $50 as a promotion for potential residents next season – its nice to have services including cable TV and a pool/gym/hot tub/showers, etc. but we are making plans to start north soon to deal with family matters.
Stay tuned for our adventures on the road back to Canada.