I have to admit I was a little apprehensive as we pulled out of Saskatoon in late December heading for Winnipeg to pick up our fifth wheel which had been stored for several weeks while we enjoyed Christmas with family (including our kids) we hadn't spent much time with for you five years. And, here we were venturing off again with our pickup loaded to the roof with "stuff".
A few weeks of Canadian winter following five years in the Cayman Islands made a very compelling case for getting to where it was warm and it looked like all of the arrangements were in place to live life on the road.
The drive to Winnipeg allowed us to discuss whether or not we had packed everything we needed and left our affairs in order such that we didn't need a physical base. As we pulled into the yard at sunset where the unit was stored, the failing light added to the surreal feeling that the adventure had begun.
Our trip would take us south across the Canada/US border through the Dakotas (ground I had covered with my cousin John as co-pilot in importing the fifth wheel from Iowa), through Iowa, Kansas, Oklahoma, Texas, New Mexico and finally Laughlin, Nevada where we would make our first camp in the unit without the prospect of frozen pipes – until then, hotels. We would test systems and familiarize ourselves with features in the time left each day after logging as many miles as possible.
We knew there were weather risks and snow covered roads for about ten miles near the border reminded us that pulling a ten thousand pound caboose was not something to trifle with.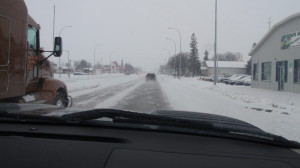 The real reckoning came on New Year's Eve when about 80 miles north of Kansas City we encountered a serious evolving storm and increasingly icy roads. About ten miles from St. Joseph, we witnessed vehicles and even a fifth wheel and truck in the ditch and by the time we pulled into St. Joseph we both gave a sigh of relief as we could barely stand up on the icy parking lot surface.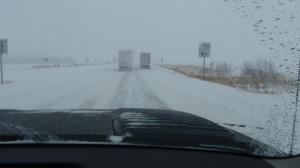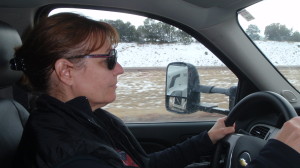 We celebrated our arrival and New Year's Eve with a meal out at Red Lobster (Sheryl's favourite) and some shopping at the mall next to our hotel.
Maybe it was the stress of the drive that day, or maybe it was the laughable nature of the US fiscal cliff impasse dominating the news but we were both in the mood for humour. Adjacent to our hotel and between us and the mall was a precipitous retaining wall which named our very own fiscal cliff, given that it stood between us and our credit card limits. In true congressional style we overcame the cliff (by walking a couple of hundred yards around it) to fulfill our spending promises to ourselves and returned to our hotel satisfied that our lives would be better for it.
New Year's Day presented renewed enthusiasm with clear roads through Kansas, Nebraska and finally taking us to Oklahoma where temperatures were above freezing and we took the time make a couple of modifications to the unit with the benefit of very accommodating and helpful local suppliers.
The mid-west is a great drive with few hills and scenes of massive grain farms with rows of enormous grain bins and "big" equipment dealers in every town along the way. Despite the drought of 2012, I sensed a positive attitude in everyone we met and was left with the sense that hard work growing the food that the world needs brings a satisfaction second to none.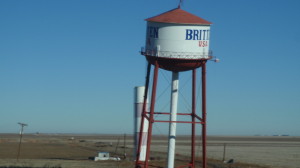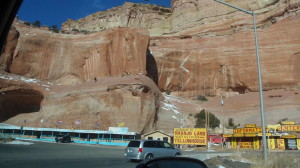 Albuquerque and then on to Flagstaff where we had most of an afternoon to enjoy this interesting mountain resort town where it was clear that we could have encountered some serious snow and ice and were fortunate that roads were clear and dry.
Speaking of roads, US interstates are by far the nicest roads I have ever driven on. Well maintained and well marked, they don't stay snow covered for long. State police and Highway Patrols were evident everywhere and drivers were mostly very courteous. And, rest stops were plentiful with lots of services and easy parking for our 50+ foot fifth wheeland truck unit – actually small by most RV standards we are finding.
As we descended from Flagstaff into the Colorado River Valley east of Laughlin, we commented to each other that would need to return to our route down in better weather conditions to explore some of hte missed sites – noteably Meteorite and Rosswell but seriously the Grand Canyon which can be viewed from the south edge about four hours north of Flaggstaff.
Pulling into our Riverside RV Resort (part of the Riverside Casino) marked the first real step into full time RV living and to our relief, every system we plugged in and turned on worked perfectly.