Having visited Laughlin about ten years earlier, we had no illusions about what the commercial gambling industry was about. Not being gamblers, we occupy a fairly unique vantage point as we watch smokers, drinkers and otherwise desperate looking people plug slot machines to empty bank accounts.
But the industry wraps the entire experience in wonder and optimism and lots of loss leader services which can only be appreciated by RVers – defined as those who can spend tens or hundreds of thousands on their RVs and fuel costs only to camp in Walmart parking lots to avoid resort fees.
So, in Laughlin, we cycled to the library where we secured a card and borrowed free DVD movies and accessed free wireless internet, attended cheap current feature movies in almost completely unoccupied theaters, capitalized on $15 all-you-can-eat seafood and prime rib buffets and at the end of the day, perched on our steeply situated RV site, relaxed and watched the carnival-like light show of the casinos. The massive electrical power consumption fortells the huge margins casinos make in their "core" business. In short, we were starting to relax and enjoy dry streets and daytime highs with a light jacket.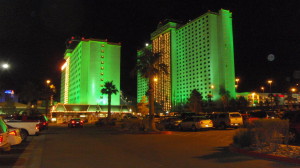 Wonderful friends (and former landlords) of ours from Grand Cayman relocated to Las Vegas a couple of years ago and we had committed to ourselves to visit them on our way. They live in a great neighborhood backing onto a golf course and we had a fantastic two day visit with them with side trips to the strip and a stage show (Divas – female impersonators …… only in Vegas). We were told that temperatures we unusually cold (below freezing at night) but we were just happy that there wasn't snow.
A highlight was a stop at the pawn shop popularized by the History Television Channel in their series Pawn Stars. Although we didn't meet Chumley, we were quite surprised by how small the place was. Evidently they had been filming earlier in the day but when we arrived, tourists were the only patrons – buying Chumley and Rick bobble head dolls and T-shirts.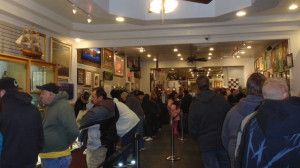 Most casinos in Nevada and Arizona offer free (or very cheap) dry camping in their parking lots as an inducement to potential gamblers. We took advantage of this at the Tropicanna in Laughlin where we paid $5 per night and had good security patrolling the lot day and night. When dry camping, one relies on 12 volt batteries for power and holding tanks for fresh and sewage water storage. Propane powers refigeration, furnace, hot water and stove/oven. We purchased a small Honda 2kW generator for recharging batteries or running 110 volt devices when needed. We also added a battery monitor so that we don't inadvertently run our batteries down and damage them.
Another limitation of standard design RVs is that the furnace is a forced air, air to air heat exchanger. These units push more than 50% of the heat value out as exhaust and also consume a lot of bettery power turning the fan. Most RVers today add a small ventless propane heater which heats by either convection or radiant heat and requires no fan. Further, they burn the propane fuel at 99.9% efficiency and therefor require no exhaust vent although they do require an open window for oxygen replenishment. For dry camping and boondocking this dramatically extends battery and propane life and minimizes the need to pull out and connect a generator for charging (generators are best kept locked up when not in use to prevent theft). We added a 10,000 BTU ventless heater which does a great job of quietly heating the unit in outside temperatures down to just above freezing. The regular furnace acts as an effective backup and would be required if temperatures fall below freezing as it keeps our enclosed tanks from freezing via a dedicated vent.
Back to Laughlin attractions…..on our last day before departing for Quartzsite, we took in street rod show put on by one of the large casinos. Although the show was small by street rod show standards, there were some excellent rods including notably, a pair of mid-50s Chev pickups which showed a lot of pride of ownership and many hours of of custom work.