Well, this could be a really long post and though I (Doug) am known for being long winded, I'm not going back through my and our sordid history.
After long professional careers, raising Brian and Devon, and finishing off a five year offshore assignment in the Cayman Islands, we find ourselves asking the question, "What next?"
Will we run out of time to explore and enjoy the adventure due to health? How do we satisfy our family obligations? Can we afford to retire?
Well, we may not have fully answered all of those questions and their peripheral concerns but we took the plunge anyways and here we are.
Here, is touring North America in an RV.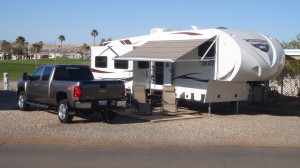 The appropriate mobile accommodation for gypsies like us is open to wide debate. My 30 foot sailboat was quickly ruled out due to Sheryl's seasickness and the challenge getting it to anywhere other than coastal destinations – not that those aren't interesting but it gets expensive and often difficult to commute to inland attractions. Boats are also inherently limited in the amount of "stuff" we can take with us – bikes, golf clubs, lawn furniture, big screen TVs and of course a wide assortment of clothing and shoes for hiking, golfing, etc. are largely out of the question.
RVs are quite diverse and marketing can be very confusing. Trailers, slide-in campers, roof top tents, fifth wheels, Class A, B and C motorhomes in puller, pusher, diesel and perhaps even self-levitating configurations, all present their unique features and according to the salesmen, features you shouldn't be without in this age of convenience.
In the end, we settled for a "modest" fifth wheel with three slides behind a 3/4 ton truck with seating for five. It has all the features we need, and so far we've been able to organize its plethora of spaces to accommodate our growing collection of "stuff" without spilling into our contingency space – the back seat of the truck.
As you have gathered by now, we do not own a home, so our son has kindly allowed us to use his address as our base. Not being tied to real estate conveniently removed an impediment common among RVers planning to go "full time". As for mail, banking, and staying in touch, the Internet has been transformational for our generation.
So, now that we're here, read on as our adventure presents new places, friends and experiences.