Once we had settled into our RV lifestyle and had tested our various systems, we decided to partake of the annual snowbird pilgramage to Quartzsite, Arizona where RVers congregate for an RV, rock (real rocks, not the music) and gem and flea market show on their way to southern Arizona and California, one of the few reliably warm winter regions of the US.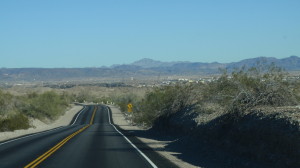 Quartzsite is a tiny little town isolated in the middle of the desert where prospectors once searched for gold and other valuable minerals. Today, it is a convenient stop on the route south for RVers and somewhat of a mecca for rock hounds. It is the heart of the desert but surprisingly, there is actually green brush growing mainly along washes which only fill up briefly after not-too-frequent rain storms. When a desert resident refers to a a six inch rain storm that means that the raindrops are six inches apart – its pretty dry.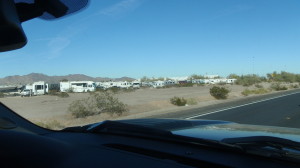 RVers camp in open desert on "Bureau of Land Management" federally administered land. There are no services other than garbage bins, a few pit toilets and a sewage pump out so you need to be self contained and prepared for "dry camping" or "boondocking". For a fee of $40, you can stay for 14 days and for $180 for 80 days – a great deal. I think its the congregation of people living cheap in less than comfortable conditions (although some of the RVs rival big city condos and technology assures internet, satellite TV, blender drinks and hot showers) that gave me the impression of a modern day Woodstock and some of the less equipped residents left me with the impression they perhaps never came home from the fabled rock concert. Estimates of short term residents camped at Quartzsite range to over 500,000 people – be there or be square……
We decided to connect with the RV Forum group which, apart from hosting and posting on the RV Forum website, organizes informal rallies across the US. They welcomed us as new members and we met a lot of nice people, some of whom we have stayed in contact with during our ventures further south.
On our first full day there, we traveled to nearby Blyth where we caught the last day of a three day annual Bluegrass festival. It was a great day of kicking back and listening to some excellent pickers – an inspiration for me to pick up my banjo again. We were now really enjoying the warming temperatures and sunny days. One musician, Chris Stuart, is a great songwriter and told some interesting stories through song to some smoking flatpickin' and fiddle backup. One song entitled the Elderly Walker was about how he almost got arrested one morning while taking an early morning walk wearing a hoodie in a suburban neighborhood. Surrounded by guns drawn police officers he was relieved when, after he removed the hoodie, one of them radioed in to cancel the backup with the comment "its just and elderly walker".
An important element of the RV Forum members for us was mining the wealth of RV information from people who have been doing this in every imaginable form, some for 15 to 20 years. Between the latest RV gadgets available at the show and the forum members we quickly became educated. The forum members circled the wagons, so to speak, as a group and held a happy hour campfire every evening at 4:00.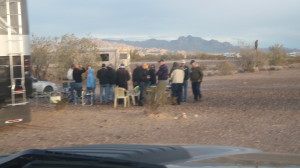 Every morning a group held a two mile walk to get sleepy and hung over bones mobile again – I dubbed them the elderly walkers, not to be confused with elderly gawkers, stalkers or talkers (although the latter showed up at the campfires).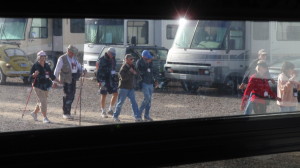 Sheryl became desperately sick with a respiratory flu at Quartzsite (perhaps caused by dry mouldy grass blowing around at the Bluegrass Festival) but thankfully it does not appear to have been anything as serious as "Valley Fever", a lung fungus which is acquired by inhaling desert dust during summer and fall dust storms.
As Sheryl recovered, we ventured out with the Forum members for a hike along a large wash where we saw an ancient native settlement site with a number of petroglyphs. Some of the members were quite knowledgeable about the native history in the area and the plants and flowers – as sparse as they are.
Another day we hiked up "Q Mountain" a small but steep hill located adjacent to Quartzsite with a spectacular view of the area – especially the transient community of RV sojourners. That was a great day as we followed up with an 18 hole round of golf at the Quartzsite Country Club – a rustic collection of flagsticks and tee boxes planted in the desert without any further development. Deteriorated outhouses serve as clubhouse facilities. We had purchased a couple of $5 clubs at a the flea market and they worked great – I think we got some pars even but there was no scorecard to verify that. I suspect natural hazards such as snakes would be a challenge in the warmer summer season.
A couple of other important stops in Quartzsite are the Quartzsite Yacht Club (a dryland watering hole for wayward sailors to cry in their beers about lack of suitable cruising waters) and Silly Al's which has outstanding pizza.
Many RVers are avid "geocachers". Geocaching is an outdoor pursuit activity in which participants use their GPSs to locate a cache (usually a hidden Tupperware type container) via lattitude and longitude coordinates published on various internet sites. Some of the Forum members found as many as 35 caches in a day and have thousands they have discovered and logged. Its a great way to see unique places with particular views or other special attributes.
Oh, and did I mention the incredible Arizona sunsets.  Dust in the air has great aesthetic side benefits.
After ten days of dry camping and proving we could conserve water and holding tank capacity, we decided it was time to push on to Yuma. More on that in our next entry.